WELCOME
Hello! My name is David Faulkner and I am a freelance 3d artist and games developer. This website is a collection of my work and various projects.
My main focus is on environment art and props, though I have a wide range of experience covering many aspects of game development including; character art, animation, video production and UI design.
Download resume (pdf)
Download work samples (zip)
---
Art Software :
3d Studio Max
Blender
Photoshop
SpeedTree
Inkscape
Game Engines :
Unity3d
Unreal Engine
Gamebryo
Key Technical Skills :
High-poly subdivision modelling and sculpting
Low-poly modelling and LoD creation
UV mapping and texturing
Stylized and photo-realistic material creation, with experience in PBR and metallic workflows
Rigging and basic character animation
---
NEWS AND UPDATES
Ludum Dare 25
This weekend I took part in the Ludum Dare game jam competition. The competition challenges solo developers to create a game from scratch in 48hrs based on a theme. The theme for this Ludum Dare was Shapeshift.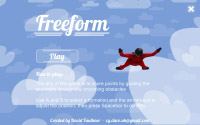 My entry, called Freeform, is a simple arcade game based on big-way skydiving. The idea of the game is to shift your skydivers into different formations in order to score points. It was made in Unity, with graphics assets created in Blender and Photoshop, and Audio assets made with Ableton Live and Audacity. This was my first time taking part in Ludum Dare, and although I ran out of time to implement all of the features I wanted, I'm still happy that I managed to get playable game finished. It was a really fun experience, and I hope to take part in future competitions.
You can view the entry here.
Download link: cg-art.co.uk/store/LD35/LD35_Freeform.zip
A timelapse video of the development: youtube.com/watch?v=dxB6L4Gjd1Q
---
Crossfire Launches on Android
I've just released my new game for Android! It's a fun little arcade shooting game with a 2-player local coop mode.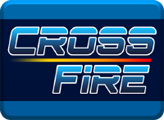 This is the first game I've released as a solo developer. Almost all of the assets for the game were made from scratch by myself including graphics, music, sound effects, and scripts. It was made using the Unity3D engine, with graphics assets created in Blender and Photoshop, and Audio assets made with Ableton Live and Audacity. Total production time was around 2 months.
It's available for download now on the Google Play store!
CONTACT INFO
Get in touch, I'm always happy to hear from people! If you have any questions about my work, would like to enquire about my availability for a project, or just fancy saying hello, send me an email or use the form bellow.